PlayPaint 0.1.0 Released!
---
PlayPaint Released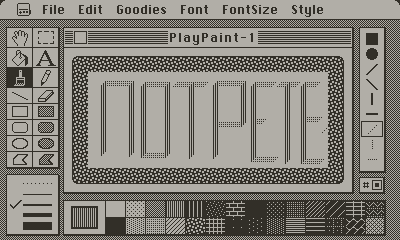 This is a devlog announcing the initial release of PlayPaint for PlayDate.
I'm extremely proud that I have gotten this to a point where it can be released and is ready to be used by others. This is by no means a final version, but it has all the necessary features to draw and export black and white paintings using your Playdate.
My goal in this project is to have something which is both a retro-throwback and a fun to use painting app. Part of my philosophy is that you shouldn't need instructions, a tutorial or help pages in order to use the app. You should be able to basically figure it out how to use new features successively via discovery on your own. That's why I moved the brushes so that they aren't hidden in a menu and are always visible on screen.
I'm hoping to do some live streaming on twitch.tv/notnotpeter feel free to follow me there to get notifications of my streams, follow me here to see updates or at @notpeter on twitter for other ramblings and updates.
Thanks!
Get PlayPaint - A Drawing App for Playdate