PlayPaint v0.2.1 - Polygons & Wrapping Paper
---
PlayPaint v0.2.1: Now with Polygons!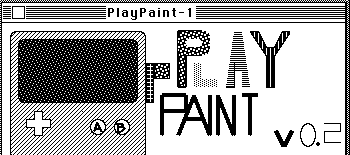 As mentioned in the previous devlog I implemented Polygons, both filled and open on stream the other day. Now you just tappa-tappa-tappa you way through drawing custom polygons. They support the full set of fills and strokes just like other drawing objects.
I've also added icons and wrapping paper.
Enjoy!
P.S. I recorded my creating the art using the editor itself, but it's too big to attach on Itch so check over on twitter: https://twitter.com/i/status/1679364314568769536

Files
playdate-playpaint_0.2.1.pdx.zip
57 kB
78 days ago
playdate-playpaint_v0.2.1_source.zip
73 kB
78 days ago
Get PlayPaint - A Drawing App for Playdate